Around 40% of Australian retailers, including Coles, Woolworths, Bunnings, Officeworks, JB Hi-Fi, KMD Brands (formerly Kathmandu), David Jones, Kmart Group and The Iconic, have made net zero commitments.
However, many retailers still believe they are insulated from the direct consequences of climate change, have not identified it as a significant business risk or made it a strategic issue at board level. .
Insufficient preparations
According to a recent Australian Retailers Association survey, 74% of members agree they need to take urgent action to mitigate the impacts of climate change, but 62% believe their business is not sufficiently prepared for the transition to a low carbon economy. economy.
Retailers who deny the impending disruption are in for a brutal shock. Consumers increasingly favor companies that take climate change and sustainability seriously, and boycott those that don't.
"Consumers are more likely to buy from brands that are aligned in terms of beliefs and values, and the environment certainly matches up in terms of consideration," said Michelle Grujin, vice president of consumer goods. and retail at Capgemini Invent Australia.
According to a Capgemini study, 60% of consumers say they will be more mindful of natural resources and sustainability when deciding where to spend their money.
The retail sector may have been late to the climate change party, but it is now making up for lost time.
Reduce emissions and waste
On Wednesday, the Australian Retailers Association launched its climate action plan at a luncheon attended by 120 retail industry leaders. The plan incorporates the ARA's Net-zero roadmap, which details the investments and actions retailers will need to take to reduce emissions and waste, and help consumers adopt low-carbon lifestyles. .
The roadmap targets net zero emissions from electricity consumption by 2030, net zero emissions throughout the retail value chain (including upstream from suppliers and downstream from consumers ) by 2050 at the latest, and zero waste to landfill by the same year.
These goals will be achieved through data-driven decisions, shifting to low-emission and energy-efficient stores and renewables, shifting to electric and hydrogen vehicles, sourcing products and raw materials from more sustainably and by embracing the circular economy.
The retail sector is uniquely positioned to engage consumers in climate action, drive investment to accelerate decarbonization and work with partners to reduce emissions across the supply chain, the director said. General of ARA, Paul Zahra.
"We really need retailers to embrace sustainability and make sure they have a plan," says Zahra.
The big chains set the example. Coles, which aims to be Australia's most sustainable retailer, has pledged to be powered by 100% renewable electricity by June 2025 and achieve net zero emissions by 2050.
Woolworths is also aiming for 100% green electricity by 2025, zero waste to landfill in the same year, and net carbon positive – removing more carbon from the atmosphere than it produces – by 2050.
Wesfarmers' retail businesses – Bunnings, Kmart Group and Officeworks – have committed to producing 100% renewable electricity by 2025 and are targeting net scope 1 and 2 emissions by 2030.
"Climate change can be influenced and there are many things you can do as a retailer that can improve the sustainability of your business and also benefit the planet," says Sarah Hunter, Managing Director of Officeworks.
In addition to switching to renewable energy, Officeworks has committed to planting two million trees and aims to become a zero waste company by eliminating waste, maximizing recycling and working with circular economy partners such as the biggest garage sale in the world.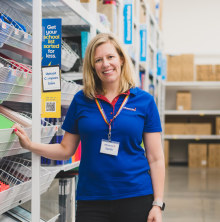 After taking a 21% stake in February, Officeworks plans to expand the business into a nationwide recovery and repair service under the Circonomy brand.
"It makes business sense, but it's also incredibly important, consistent with our job posting, our brand and our reputation, that we're seen as leaders in this space," says Hunter.
But saving the planet comes at a cost, and retailers (and their investors) are beginning to realize that their sustainability commitments will come at a steep price.
According to a McKinsey report released earlier this month, over the next five to 10 years, retailers could see increases of at least 10-15% in their annual capital budgets and up to 8% in their cost of goods sold.
Although these costs are partially offset by operating cost savings of 1-3%, the retail value chain is still expected to experience a net increase in costs, according to the McKinsey report.
Retailers will need to assess how much of these costs they will have to bear and how much of the costs should be borne by other stakeholders, including suppliers, consumers and investors.
Judging by the massive flow of money into ESG-focused funds and sustainability-linked 'green' bonds, investors seem willing to support the corporate sector's sustainability ambitions, even as they scale back. yields and profits in the short and medium term.
Hunter says investors now expect companies to take action on climate change. "All the data indicates that companies that are well managed over the long term, and that include consideration of climate and sustainability, will outperform and deliver top quartile returns," she says.
The next question for retailers is how many additional consumers, already facing higher living costs, will be willing to pay to finance the cost of decarbonization.
McKinsey research suggests that 49% of consumers are willing to pay more for sustainable products and 51% are not.
Research technology company Glow, which helps companies assess their ESG performance, says Australian consumers are willing to pay a premium of just 3.5% for more socially responsible brands.
Clearly, more communication with consumers will be needed as the transition to net zero accelerates. Retailers may need to spend as much time and effort with buyers as they do with suppliers and investors explaining the cost of saving the planet.